Broodmares for sale


Click here for Broodmares For sale
CALL 580-471-4040


Like us on Facebook!
Click here!
"LIKE" us, and SHARE with your friends





We are primarily a Breeding Farm,

producing many foals each year,

and we stand several stallions to the public.

(Cooled Shipped Semen offered on all stallions.)

We also have several Broodmares, and produce Performance Prospects each year.

The goal is to produce Quality horses that have top bloodlines, great conformation, and good minds.
"Athletes with Brains!"


My Primary Breeding Program is Barrel Racing & Performance prospects.
I raise several foals every year that are offered for sale directly to the public.

Primary Bloodlines of my Barrel Racing and Race Bred Stallions and Broodmares include:
Fire Water Flit, Marthas Six Moons, Dash For Cash, Frenchmans Guy, Streakin Six, First Down Dash, Dash For Perks, Sugar Bars, Rocket Wrangler, Dr Nick Bar, Flaming Jet, Special Effort, Dash Ta Fame, Oklahoma Fuel, Sun Frost, Easy Jet, By Yawl, Go Man Go, Flit Bar, On A High, Bugs Alive In 75, Jet Deck, Bully Bullion, Raise Your Glass TB, FL Fancy Bug (P), Dash Ta Fame, The Ole Man, Three Bars, Shawnee Bug, Lady Bugs Moon, Judys Lineage (P), Leo, Panther Mountain, PC Frenchman, On A High, and many others.

I also have a small number Cutting and Foundation bred horses including Bloodlines of:
Doc's Hickory, Tenino San, Poco Bueno, Jessie James, Jaguar, Smarty Cat, Hard Twist, Blue Valentine, Peppy, Freckles Playboy, Genuine Doc, Freckles Playboy, Two Eyed Jack, Sugar Bars and others.

I used to compete and show in Open shows, FQHR shows, and AQHA or Open Feedlot Sorting Competitions
when time allowed.... but there isn't much time anymore...






My newest Small adventure is Youth Ponies and Small Family Horses!
Partly because of my daughter... I added a very small breeding program for Youth Ponies. I may occasionally cross a Quarter Horse, Paint, or Pony broodmare with my new Pony stallion for Youth Prospects. He is also offered to the public for breeding. Shipped Semen available.
With my new Pony Stallion, I aim to produce athletic Ponies around 13 hands tall that can be good prospects for a variety of performance events for Kids. And because my Pony Stallion is a Perlino...
the Youth Ponies will be Buckskins, Palominos, and colorful Paints

.






Pony Stallion At Stud
KS SNOWY RIVER

2006 Perlino (EeAACrCr) 45" tall
Built like a horse!
Sires 100% Color.
Click here for More info on Ponies
PONY Stallions & Mares
Another New Program is... SPOTS!
I've been fascinated with the Appaloosa breed my whole life. They are a unique and versatile breed. In the Fall of 2012, I found an Appaloosa breeding farm that was selling out due to retirement, and I fell in love with the stallion. I had search for many years for quality Appaloosas, but couldn't find the quality I was looking for... until now. He is Homozygous for the LP gene (Appaloosa Pattern) and also Homozygous for the Dark Base. EEaaLPLP.
So, I plan to create a few Appaloosa Foals each year like this one...


(Pictured here is one of his foals)
Click picture to go to the Appaloosa Stallion's page.

Click here to go to Stallion page
Email: BedonnasStallionStation@hotmail.com
(BUT... I get way behind on emails during breeding/foaling season.)

Or call: 580-471-4040
(No Texts please)

Click here for all Stallions At Stud

Like us on Facebook!
Click here!
"LIKE" us, and SHARE with your friends to be Eligible for:
* FREE Stud Fees in 2014
*FREE Coupons up to $1000 toward the purchase of a foal, or yearling.
* Enter our Photo Contest to win up Cash, Coupons, and Prizes!
See Contest Page for rules and details.

Links: (click on words below)
FOR SALE STALLIONS HAPPY CUSTOMERS

Ranch Broodmares Rainbow Acres Retired Horses

BREEDING CONTRACTS PONY Stallions & Mares


2017 Foals 2018 Foals 2019 Foals
RANCH RAISED FOALS Payment Plans & Terms of Sales


In Memory/Horses of the Past ROPE HALTERS FOR SALE


Information/Horse Haulers CONTACT PAGE

TRANSPORT can be arranged for horses bought here
with Delivery all over the USA.

Location:
Bedonna's Stallion Station
21865 US Hwy 62
Snyder, OK 73566
(DO NOT Trust a GPS for directions to my ranch!
Always confirm directions with me to be sure.)

Customers in Most States!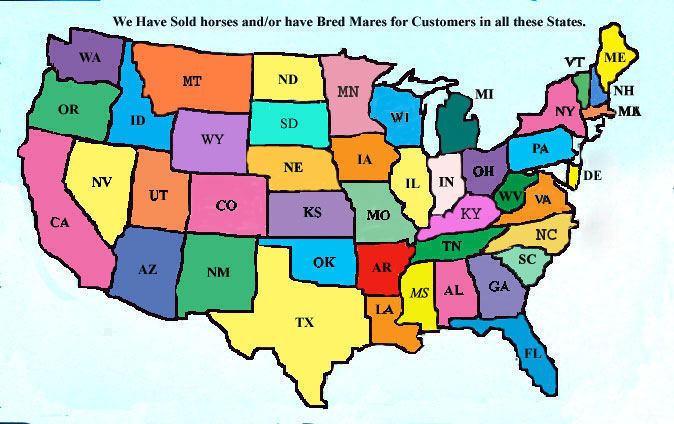 I now have several customers in
Mexico, Canada, England, Australia, Wales,
France, and Czech Republic too!
And now customers in Hawaii and Brazil !
Please check out the Stallion Page for information on
the Stallions, Breeding Contracts, Shipped Semen, Color Guarantees, etc.


Many Horses for sale at all times. Currently, I have Stallions, Stallion Prospects, Broodmares, and performance prospects for sale. They can be seen on the
"For Sale" pages, and throughout the site.


Something new is the available here at the ranch. Look under the different pages for details.. Several things are now offered.
Custom Artwork, Photo Retouching, Custom Gifts, and also Hand-Tied Rope Halters.
Enjoy the site and don't hesitate to contact Bedonna with any questions you may have!
580. 471.4040. Call back if no answer. NO TEXTS please.

You can also email me at NEW EMAIL: BedonnasStallionStation@hotmail.com


Note: If YOU or someone you know has a horse that came from our breeding program...
whether is was this year, or during the last 30 years... please email me a quality photo of your horse running barrels, winning a race, team roping, or another really good photo, and a note/quote telling me about your horse. I'll add all Good photos with quotes to the new Happy Customers page.
And to say THANK YOU for sending good photos...
include your complete address so I can send you a $100 gift certificate.
email: BedonnasStallionStation@hotmail.com

© 2012 Bedonna's Performance Horses
Hosted by iPowerweb // Originally Designed by Rony Pony Web Design
Maintained, Edited & Updated Daily by Bedonna

NO Pictures, Text, Graphics, or Information from this site may be used, borrowed, or taken,
without written permission from Bedonna Dismore.




Stallion Barn and Breeding Facilities.




Broodmare Pastures, with Barns in Background.





Broodmares in the pasture.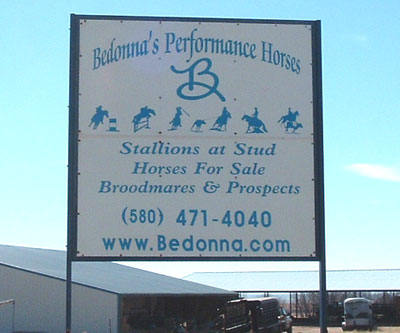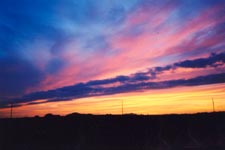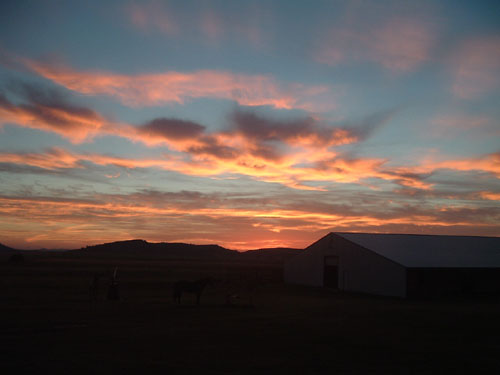 We are blessed with beautiful Sunsets and Sunrises.


NOTICE:
To all people in the horse business,
There are three horse people who have outstanding debts with me. I wish to inform others, so they can make informed decisions in case they choose to do business with these people.

1. Kelsey Olson, in Wisconsin, who also goes by Chelsey Olson, contacted me in Sept. 2008 to purchase several mares and foals. She appeared to be a legitimate buyer, and after I had incurred hundreds of dollars in expenses with vet bills for Coggins, etc., hauling mares back and forth, as she changed her mind as to what she wanted, and hiring help to make it all happen... she never wired the funds for purchase, and sent an email just hours before the hauler was to arrive to take the horses to Wisconsin... stating she still wanted to be "Friends" but was not going forward with the deal. Later, in two different phone conversations, she promised to pay back my expenses. She has not. I then later discovered she has a history of deceiving people and pretending to be buyer. If you get contacted by her... be very careful! I found out too late!

2. Sammy Watson of Watson Quarter Horses in Braymer, MO owes me $400. and has owed it since 12/15/06. They sold me a mare who was supposed to be in foal, but said they would refund me $400 if she was open. She was open, and they have not paid me back in all this time! You might keep this in mind if you decide to do business with them...


3. Steve Moss, of Clinton, OK. owes me $300. In Dec. of 2006, he wanted to buy a colt from me as a gift to his wife for Christmas. He was my farrier, and asked if he could pay me part of the money and then work out the last $300. in farrier work. Since then, he has not come to do work and won't return my phone calls, and has not paid the debt either. The sad thing is... he also works for the Sheriff's Department!



© 2012 Bedonna's Performance Horses
Hosted by iPowerweb // Originally Designed by Rony Pony Web Design
Maintained, Edited & Updated Daily by Bedonna

NO Pictures, Text, Graphics, or Information from this site may be used, borrowed, or taken,
without written permission from Bedonna Dismore.