- Pepsi Skippin Scotch -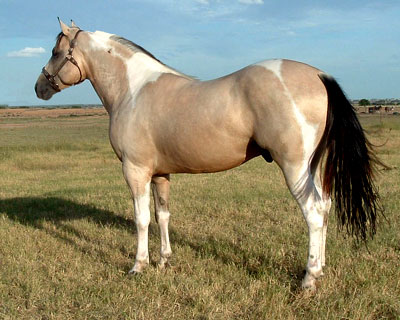 2003 APHA Homozygous Buckskin Tobiano, APHA 00774761

Pepsi is Very sweet, and kind, but shy, and certainly Not aggressive. I taught him to collect and bred him to several of my mares in 2006, and his first foal crop in 2007 is outstanding! His 2008 foal crop is great, and expecting several super foals in 2009. He is tested Homozygous for the Tobiano gene, and is a 100% Paint producer. He also has produced Buckskins, Palominos, Perlinos, and Blacks! His sire is a Half brother to QT Poco Streke, who is sired by Pepsi Poco. Great performance bloodlines, with a color guarantee. Stands approx. 14.3 hands. Sires larger foals.


This stallion has been tested, and is Confirmed Negative for the EVA virus. He has also been vaccinated for EVA and is safe to breed and his semen is safe to ship.
He has also been tested, and he is Negative for the Lethal White gene.

Check out his Champion Pedigree.... and more pictures Below.

2009 Foals
Buckskin Tobiano Filly
APHA Foaled 5/04/09
(pictured at 12 days old)

Sire- Pepsi Skippin Scotch
(grandson of Pepsi Poco)
Dam- LS Lenas Poco Trixie
(granddaughter of Doc OLena and QT Poco Streke. Her sire has many ROMs.
Not many paints with this great of a pedigree!
She is Homozygous!
$2800
(sold)
Congrats: Tammy


Buckskin Tobiano Stud Colt
Foaled 6/22/09 at 6:30pm
(pictured here at 3 wks old)

Sire- Pepsi Skippin Scotch
(grandson of Pepsi Poco)
Dam- Satin Sport Coat.
This colt is well bred, got the color... and could be Homozygous! Last foal to be born this year and he was worth the wait!
(Sold)
Congrats: Bennett of Florida
His second baby is here,
and it's a Perlino Tobiano filly out of a Buckskin Solid mare.

(hope to get a picture soon)


Congrats to Jennifer & Jerry on the purchase of the mare, and the fancy filly that came soon after.

His first 2009 Foal is here! A beautiful Buckskin Tobiano filly out of a Sorrel mare.
(pictured here at 1 day old)

Congrats to Jennifer & Jerry on the purchase of the mare, and wonderful filly that arrived later.


Here are pictures of Foals by Pepsi Skippin Scotch
He has sired mostly Palominos, Blacks, and Buckskins, and also Perlinos.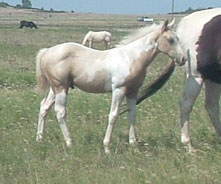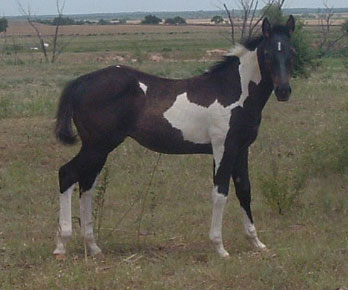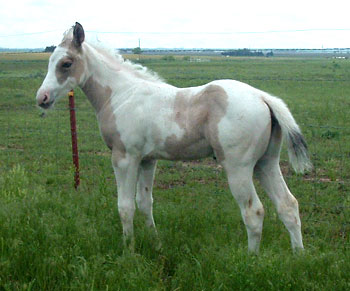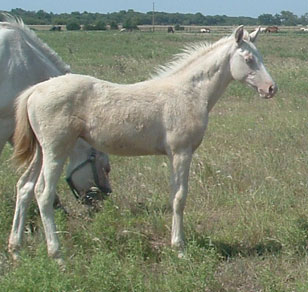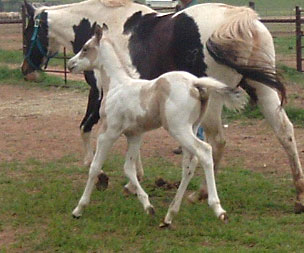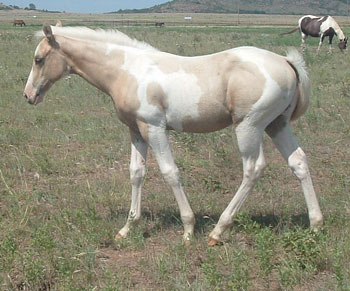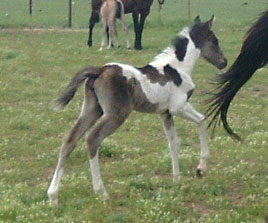 More Pictures of Pepsi Skippin Scotch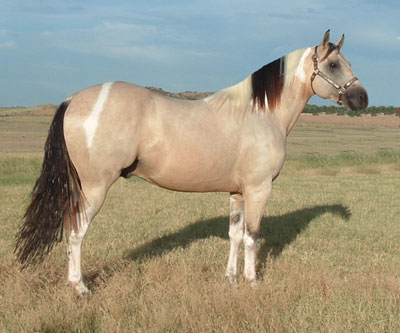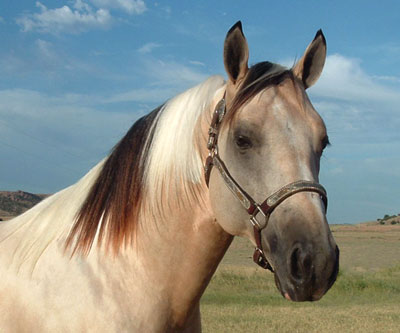 I've tried to research as much pedigree and performance info as I can.
When I bought this colt, I had no idea his bottom side was loaded with Champions, and
Champion producers. I knew Pepsi Poco, and the reining bloodlines, but the other was a
wonderful surprise. His background is Loaded with performers in everything from Reining, Roping,
Barrel Racing, and also tons of WP, HUS, Trail, and Pleasure events, along with Halter winners.

Pedigree for PEPSI SKIPPIN SCOTCH below...
-Bobs Little Poco
Smokey Black Tob
1/2 Brother to:
QT Poco Streke-
'95 World Wide Paint Congress Senior Reining Champion, APHA ROM, NRHA C.O.M., OCAP C.O.R., 2 times NRHA Open Champion, 2 Times NRHA L. Open Champion,
NRHA Bronze Winner, AQHA Congress Reserve Champion (NRHA Limited Open), APHA World Champion Sire.

-Pepsi Poco,
APHA Champion Offspring, ROM Perf. Offspring, NRHA Champion Offspring
Sire of QT Poco Streke, and others, earning 42 Halter Points, 500 Performance pts., 15 ROMs, 2 Superiors, etc.

Q Ton Ace H
APHA Champion Sire, Superior and ROM sire with offspring earning points in many events including Halter, Western pleasure, Jumping, Hunter Under Saddle, Reining, etc.

-

-Q Ton Eagle
2-time APHA National Champion Halter, APHA National Champion Reining, 2-time APHA National Champion Get Of Sire, APHA Reservge National Champion Get Of Sire. and also he earned APHA Pts in Halter (6 Grands) and Pts in Peformance, earning an ROM in Reining.

-Cherokee Ace

-Poco Star,
APHA Halter Point earner, and res. Grand Champion at Halter. Dam of offspring earning ROMs and Points in Halter and Performance events.

-Leo San Man
3-Time APHA Reserve National Get of Sire (1967, 1970, and 1972),

-Poco Snowflake
stood Res. National Champion Halter in 1964 and also a 2 time National Champion Produce of Dam.

-Miss Snow Cone
Dun Tobiano

-Leo San Man
3-Time APHA Reserve National Get of Sire (1967, 1970, and 1972)

-

Leo San Seimon

QH, 85 AQHA Halter Points, NCHA Money earner Offspring, ROM Performance Offspring.

by- Leo San-
NCHA Money Earner, Perf. Pt. earner, World Champion Offspring, NCHA, etc.
His most famous offspring include: Mr San Peppy and Peppy San.

-Lady King Bailey

-Snowball
1970 APHA Reserve National Champion Dam of Produce.
Dam of:
Poco Snowflake - 1964 APHA Reserve National Champion Halter, 2-time APHA Champion Produce of Dam

-Buckshot's Pride QH
linebred Peter McCue breeding

-Unknown Paint

-Donskipthescoth
Bay Tobiano

-HF Skip The Rest
106 WP Points, ROM in WP, and Superior in WP.

Sire of several performance horses that have earned APHA points in Horsemanship -58, Showmanship-186, West. Pleasure-141, Halter-4, Trail-13, Hunt Seat Equit-35 and earning 13 ROMs, and a Superior.
APHA PAC points earned include-
Performance 478, and Halter 36 earned in Trail, Western Pleasure, Showmanship, English Pleasure, and Equitation.

-Skip's Artist
Sire of: 2 APHA Champions, 15 World Champions, 14 Res. World Champions, 5 National Champions, 5 Reserve National Champions, 1 Amateur APHA Champion, 6 Youth APHA Champions, 14 Youth Versatility, 8 Amateur Versatility, 2 Performance Versatility, and over
398 ROMs, 145 Superiors, and over 27,322 Perf. Pts.
Halter awards included 12 ROMs, 2 Superiors, 10 Grand Champions, 22 Resv. Grand Champions, and earners of over 691 Halter pts.
APHA PAC points included 192 Perf. pts. and 53 Halter pts. along with 4 CORs, and COA.


-

Skippa Streak

APHA Champion.

3 time Resv. National Champion in Halter, 2 time National Champion in WP, 100 H Pts., Superior in Halter, 178 Perf. Pts, in HUS, Calf Roping, Heeling, Reining, Trail, and WP. 4 ROMs, and 2 Superiors. Named Grand Champion 25 times, and Resv. Champion 12 times. Also named National Champion in Youth WP.

-Skip's Aid APHA
Skipper W and Nick Shoemaker breeding.

-Lecks Lucy QH
Dun

-Leck's Skipper QH
bloodlines of Pretty Boy, Poco Bueno, Blackburn, Billy Clegg, etc.

-Wimpy Hazel Hill QH, by Showdown, by Wimpy, out of a daughter of Peppy.

-Zippin Scotch
Dam of Performer earning APHA and APHA PAC Pts in Western Pleasure

-The Scotchman
Halter Pt earner.
Sire of: many APHA Performers.
at least 10 APHA Champions, 5 Youth APHA Champions, 3 Youth Versatility Champions, 4 Amatuer APHA Champions, and 3 Amatuer Versatility Champions.
164 Perf. ROMs and 33 Superiors with over 9,490 performance points.
Also Halter earners of 65 ROMs, 24 Superiors, a World Champion, 137 Grand Champions, 165 Res. Grand Champions, and earning over 2800 halter points.


-Scotch Bar Time QH
NSBA Hall of Fame in 2002.
Sire of: World Champion, Res. World Champion, Supreme Champion, Superior Halter, Superior Performance, AQHA High Point Performance, AQHA Champion, NRHA Money earners, ROM Halter, etc.

-Lady Bar Ashwood QH

-Ann Flower Power QH

-Darks Choice Duke QH

-Zippos Sunflower QH, by Zippos Reward, by Zippo Pine Bar


These pictures taken 12/26/05 when Pepsi was 2 1/2 yrs old.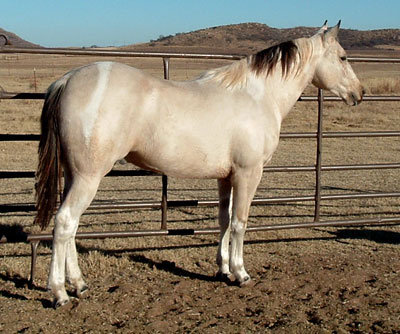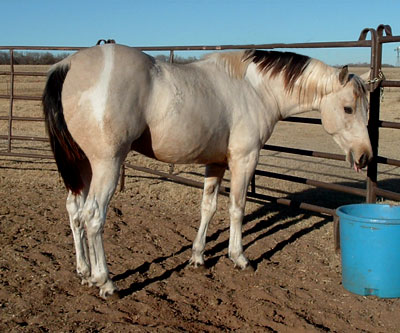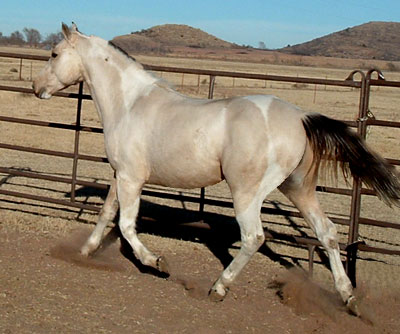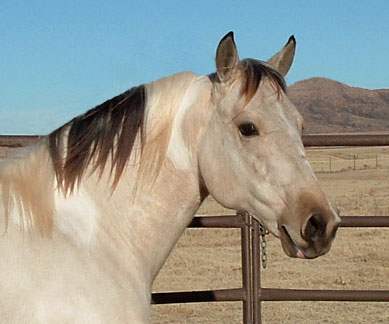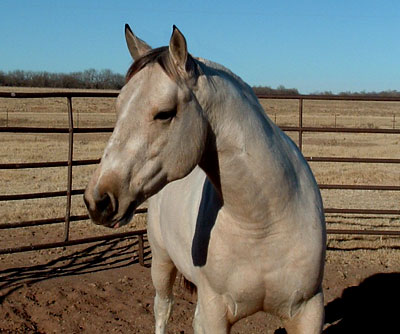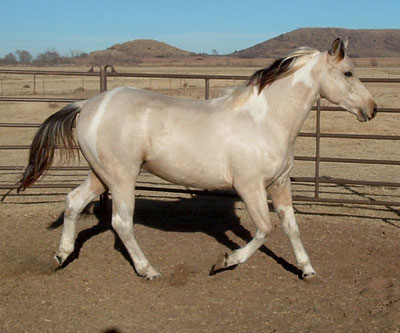 © 2003 Bedonna's Performance Horses
Hosted by iPowerweb // Originally Designed by Rony Pony Web Design
Maintained, Edited & Updated Daily by Bedonna

NO Pictures, Text, Graphics, or Information from this site may be used, borrowed, or taken,
without written permission from Bedonna Dismore.