Bedonna's Stallion Station and Performance Horses

HOME FOR SALE STALLIONS Broodmares 2010 Foals

ROPE HALTERS

(pictures of past foals with my 'Donkey Trainers', wearing custom made rope halters with extra knots.)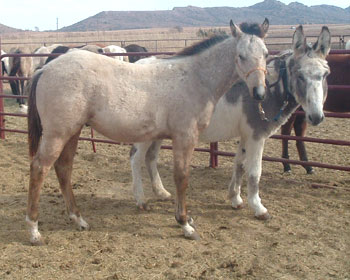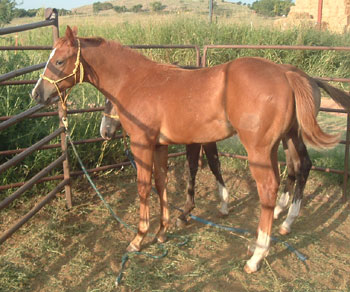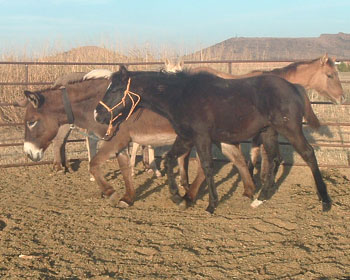 I am a big Clinton Anderson and Chris Cox fan, and I now use hand-tied Rope Halters for training and everyday use instead of my nylon halters. Clinton sells rope halters that have extra knots across the nose.
I really like them, but his halters are Expensive!
The halters I've found at the feed stores are a little cheaper,
but they are not made the way I like, with the extra knots... and I can't ever find one for a foal or a yearling...
so I learned to custom make my own rope halters! My rope is not as stiff as some other halters.
I now can make rope halters for other people, feed stores, and tack stores.

Custom made Halters priced at $17.50 each.
(With or without extra knots across nose. Does not include a lead rope.)

Free Shipping!

Newborn, Weanling, Yearling, and Average Horse sizes available.
Assorted Colors.
Extra large sizes: $1 to $3 extra. Custom measurements may be required.

MAIL ORDERS, With Payment, to:

Bedonna's Stallion Station
c/o Rope Halter Orders
21865 US Hwy 62
Snyder, OK 73566

INFO Needed for Order:
1. Complete Shipping Address
2. Contact name and phone number
3. List of Custom Made Halters needed, including:
- Quantity
- Sizes
- with or without extra knots across nose
- colors you like and dislike
(attempts will be made to accommodate color preferences, but colors are Not guaranteed)

email me at: bedonna@wildblue.net or call 580-471-4040
Visa/Master Card accepted with 3.5% convenience fee.

Halters are made to order, and will not be made prior to payment.
Prices and free shipping offered for Continental USA orders.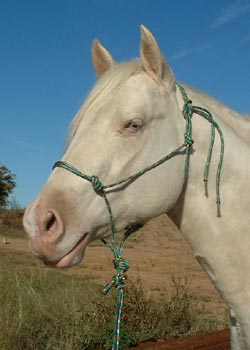 Click here to learn more about Ranch Raised foals and 'Donkey Training'.

© 2010 Bedonna's Performance Horses
Hosted by iPowerweb // Originally Designed by Rony Pony Web Design
Maintained, Edited & Updated Daily by Bedonna

NO Pictures, Text, Graphics, or Information from this site may be used, borrowed, or taken,
without written permission from Bedonna Dismore.