We Are currently Changing our program to
EXPAND our Breeding Services Offered! We now offer...

*Training outside Stallions to
Collect on the Phantom
*Standing Stallions for
other stallion owners
(any Breed)

* On-Farm Artificial Insemination Breeding with Fresh or
Cooled Shipped Semen

*Semen evaluation for stallions
* Cooled Semen Tests at 24 and 48 hrs.

* Breeding Management for customers' mares


* Ultrasounds



* Well Equipped Lab

* Ranch Owned Ultrasound


Here is my favorite Ultrasound of all times!
I was ultra-sounding a mare and this
60 day baby was running and jumping in place!
I wish I had a video, but had to settle for a photo...
First photo was actual photo, and
second photo... I outlined the foal.
* Facilities equipped with safe Stocks for Mares
* "Foal-Stall" alongside the mare for safety of Foal
and reduced stress for mare.
30+ years Experience in Equine Breeding.
24 Years experience in Artificial Insemination.
(as of 2015)
Covered Broodmare Stalls Available.
Outside Pens & Pastures.

*Collecting Customer owned stallions for shipping Cooled semen


* ALL Breeds of Stallions & Mares considered... horses or ponies...
- photo at Right is of an

11 hand ASPC pony stallion who was successfully

trained to collect on the phantom....
(Our Phantom is Adjustable)

* We try very hard to go the
"Extra-Mile" to offer great service,
and be as helpful as possible to our customers.



Call

580-471-4040


We Offer Breeding to several
Stallions that stand at our ranch.

- Artificial Insemination at the ranch
- Cooled Shipped Semen offered to USA states
Click Here to see Ranch owned Stallions Offered
Stallions offered include Quarter Horses, Paint, Appaloosa, and Pony stallions,
and more may be added to the list soon....
Contact me if I can be of assistance. 580-471-4040
*

Many Horses for sale at all times. Currently, we have Mature Breeding Stallions, Stallion Prospects, Broodmares, Yearlings, 2 year olds, and lots of weanlings for sale. They can be seen on the "For Sale" pages, and throughout the site.


We also offer other services, including Halter-Breaking Services.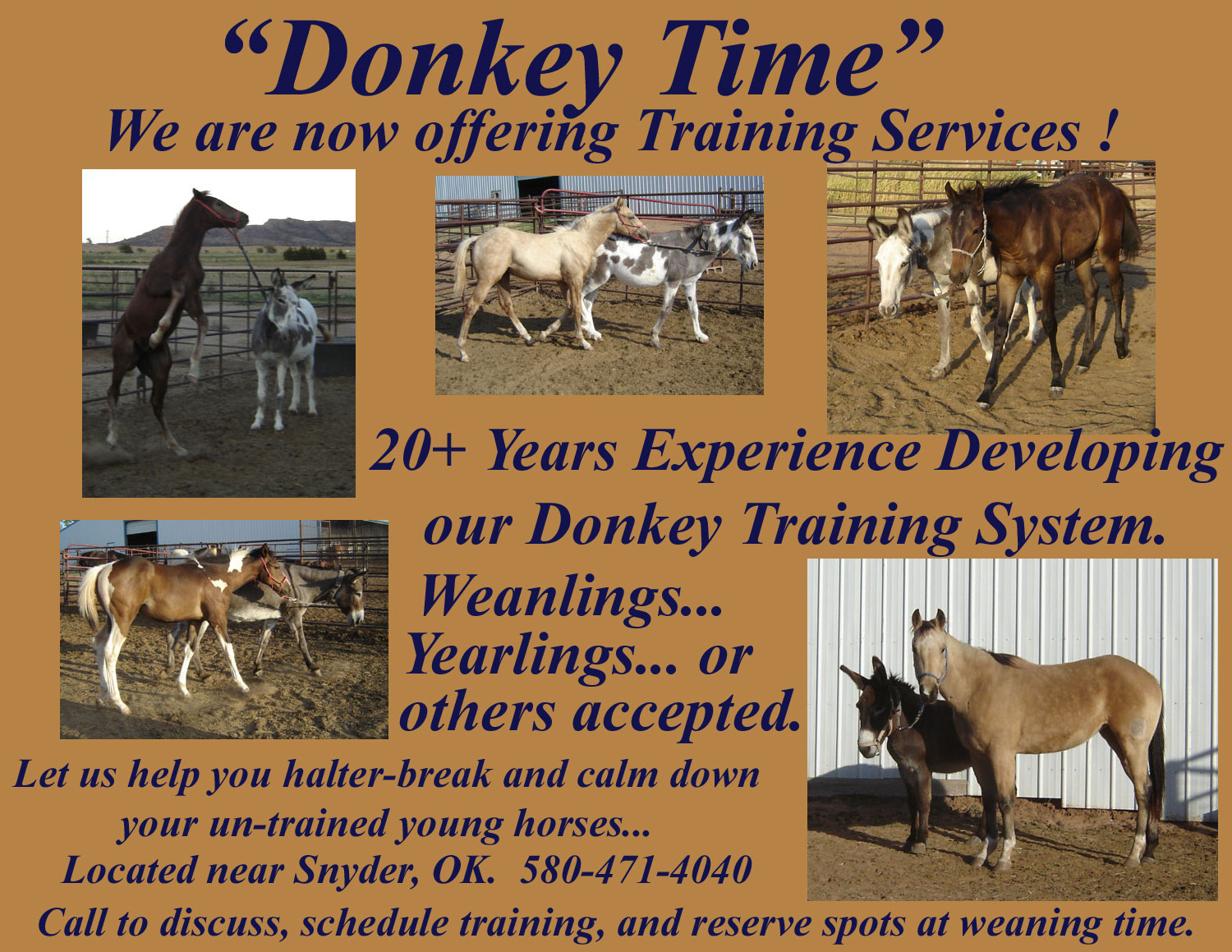 © 2014 Bedonna's Performance Horses
Hosted by iPowerweb // Originally Designed by Rony Pony Web Design
Maintained, Edited & Updated Daily by Bedonna

NO Pictures, Text, Graphics, or Information from this site may be used, borrowed, or taken,
without written permission from Bedonna Dismore.